NEWS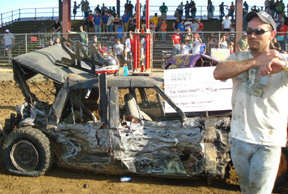 Published on August 11th, 2013 | by DDL HQ
0
RANDY SCHWARTZKOPF – They Said I Wouldn't Run, But I Did
Randy Schwartzkopf's memory lane is littered with twisted steel and championship trophies. The unassuming 39-year old would never force the conclusion that he's among Demolition Derby royalty. "My parents took me to the derbies when I was a kid, and I always wanted to run," Schwartzkopf said. "They said I wouldn't, but I did."
Run he did, indeed.
His resume includes victories in the Spring Explosion (Old Iron, 2009), Metal Mayhem 2008, Tunica (Ms) Indoor Championships 2005 and Fall Brawl 2005's Invitation-only Gold Mine Class. Schwartzkopf also won the 2003 Spring Explosion, and scored wins in the Illinois-Missouri Border War in 1999 and 2000.
He most recently won the 2009 Labor Day event during the Big Delta Fair and Music Festival in Memphis, TN. "Once you win, you catch the fever," Schwartzkopf said, pointing out the $10,000-to-win 2008 Mayhem event stands as his most memorable. "And it's been uphill or downhill ever since, depending on how you look at it."
He has more than 100 victories, and has scored more than 25 wins at his hometown fair, Washington County. His first derby was there in 1986; he won it two years later. Since then, he's won nearly 30 of the 42 eve
nts hosted at Washington County.
"Maybe that is why I am boo'ed at my home-town fair," Schwartzkopf said, noting his first win paid $300 and the fair now pays $1,000. "I'll win five or six a year," Schwartzkopf added. "We used to run 15 or 18 shows a year, now we're down to around 10."
Why? Above all, his children. The kids are becoming involved in school sports. Schwartzkopf is quick say that's a good thing, and he enjoys watching their games. A prevailing factor, of course, is time.
"It takes so long to build a car," Schwartzkopf said quickly. The sport has changed. It's not as simple as kicking out some glass and chaining the doors shut. "My biggest win was Metal Mayhem. I had a 73 Chevy Wagon and had 40 hours in the car, easy," Schwartzkopf said.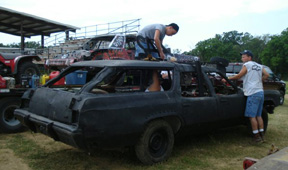 All his winnings go back into the sport, buying cars or shop goodies. He built an extensive shop and owns a pay loader and a 40-foot trailer. He's sunk several events' worth of winnings into a Scott Kohler-built small block that "words cannot describe," he said. "Scott told me that it would run 25 minutes with no water, and if it had an oil cooler, it would go 45."
Helping hands include 17-year old stepson Dylan Kosydor, Dustin Larrimore and his parents, Richard and Betty Schwartzkopf. Marrying Donna Schwartzkopf, his wife of five years, has renewed his fire for competition. "She is pretty gung-ho," Schwartzkopf said. Donna's Daycare Service joins Fastenal of Cahokia and CK Repair as annual sponsors.  His five-year-old son, Raydn, likes to do the painting on the cars, regardless of make or model.
Many local shows are going to the 80s-and-newer rules because the older cars harder to find and eliminating those cars helps entice young talent. Changes forced Schwartzkopf to find a new preferred car: the 1980s Fords. Crown Vics and Mercury Grand Marquis are best, but he wouldn't turn away a Lincoln. Schwartzkopf will run an '89 LTD in the 80s-and-newer event at the Spring Explosion this year, and Kosydor will be running the beginner class.
As for old iron, he still prefers the early 1970s GM Wagons. He's working on a Buick Wagon that came to him from California for Mayhem 2010, and the car will wear his trademark No. 442.
Even with hundreds of hard hits, memory lane isn't hazy for Randy Sc