EVENTS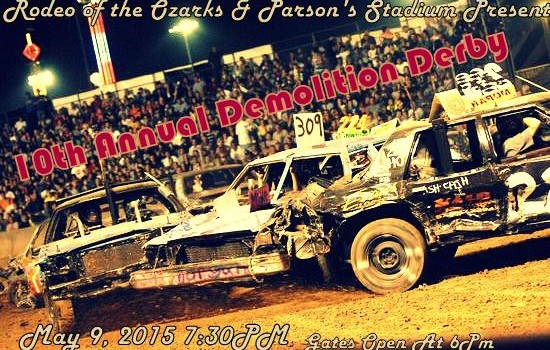 Published on May 15th, 2015 | by DDL HQ
0
Ozark Demolition Derby 2015
Saturday – June 6, 2015 – 7:30PM
Parson's Stadium
1423 E Emma Ave
Springdale, AR 72765 USA
. 
2015 DDL FEATURED EVENT
.
———-  EVENT INFO  ———-
SAMS Furniture brings us a heated competition as drivers face off until the last car is standing! Join us for fun family night where drivers will compete for cash prizes and bragging rights. Tickets are $7.00 for children ages 2-12 and $12.00 for adults. BUY EARLY AND SAVE!Purchase your tickets before the day of show and receive a $2.00 discount on each ticket. Visit our Demolition Derby page for additional information and entry forms.

Event Website: rodeooftheozarks.org/ozark-demolition-derby/
Type of Event: Demolition Derby
Facebook Page: www.facebook.com/pages/Rodeo-of-the-Ozarks/234811616613025
Twitter: twitter.com/RodeooftheOzark
Admission Fee: $50
Promo Video:
Number of years this event has been held: 10
Name of last year's winner:  Bobby Arms
Expected crowd attendance: 7,000
Expected number of cars participating: 48
Nearest metro area: Dallas, Texas
Event Promoter:  Rodeo of The Ozarks
Promoter Website:  www.rodeooftheozarks.org
Promoter Phone:  479-756-0464
Promoter Email:  rodeo@rodeooftheozark.org
DDL Ambassador:
DDL Website Link:
———-  DRIVER INFO  ———-
Event Rules:  rodeooftheozarks.org/ozark-demolition-derby/
Anticipated Prize / Purse:  $13,500

NOTE TO PROMOTER:  If the information on this page is inaccurate or needs updating, please CLICK HERE to add event info to our system.  Thanks!