EVENTS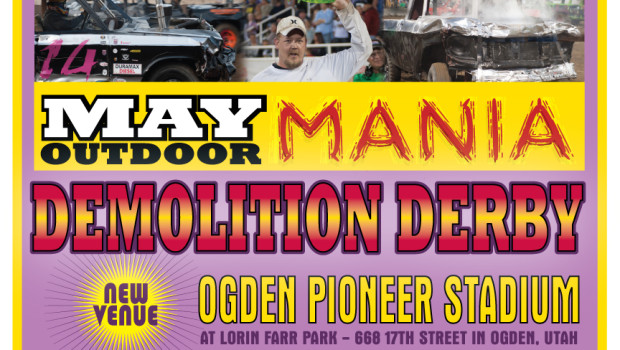 Published on May 16th, 2015 | by DDL HQ
0
May Mania 2015
May 30, 2015 – 7:00PM
OGDEN PIONEER STADIUM / LORRIN FARR PARK
668 17th Street – Ogden, UT 84401 USA
. 
2015 DDL FEATURED EVENT
.
———-  
EVENT INFO  ———-
$30,000 TOTAL $10,000 TO WIN IRON CLASS AND A TRUCK HEAT

Event Website: WWW.STIRRINDIRTRACING.COM
Type of Event: Demolition Derby
Facebook Page: STIRRIN DIRT RACING
Twitter:
Admission Fee: $16 ADULT $10 CHILD DISCOUNT TICKETS AVAILABLE PIT PASSES $20
Promo Video: youtu.be/byo7c5aaqME
Number of years this event has been held: 10
Name of last year's winner:  
Expected crowd attendance: 7,000
Expected number of cars participating: 40 CARS / 10 TRUCKS
Nearest metro area: SALT LAKE CITY
Event Promoter:  STIRRIN' DIRT RACING
Promoter Website:  WWW.STIRRINDIRTRACING.COM
Promoter Phone:  801-689-1209
Promoter Email:  johnny@nflbk.com
DDL Ambassador:
DDL Website Link:
———-  DRIVER INFO  ———-
Event Rules:  
Anticipated Prize / Purse:  $30000 TOTAL / $10,000 TO WIN

NOTE TO PROMOTER:  If the information on this page is inaccurate or needs updating, please CLICK HERE to add event info to our system.  Thanks!