NEWS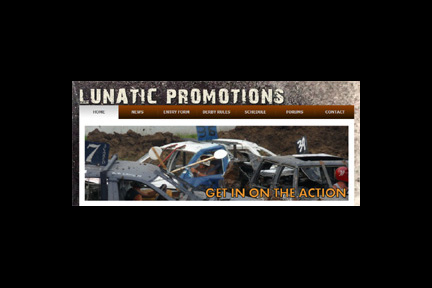 Published on June 18th, 2013 | by DDL HQ
0
LUNATIC PROMOTIONS – Steve Terlouw and the Virtual Earful
By Michael Amann
Steve Terlouw founded Lunatic Promotions in 2005 when he split with his partner in derby promoting and set out on his own. His career in derby promotions did not have an auspicious start, as he only promoted two derbies in his first year. He now has 14 derbies in Iowa and Illinois, including a 100 count Two-man Survivor Series Team Demolition Derby at Iowa State Fairgrounds in Des Moines.
"In 2009 was the first time to do the two-man," says Terlouw, "Nobody else had ever done a two-man team show, and I think it went over great," Terlouw says he looks foreword to this years incarnation. " It's something different."  Terlouw owns an outlaw '66 Imperial and says he ran in as many as 15 derbies a year back in his prime. His work with Lunatic Promotions keeps him busy these days, however. "Now that I promote so much, now I'll hopefully get to run five or six this year."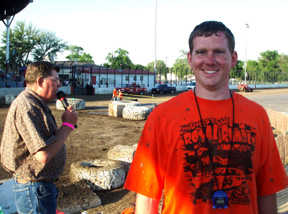 Lunatic Promotions is one of many promoters that has a website. Terlouw says that disgruntled fans occasionally use the webpage to accuse promoters of calling an unfair derby. Most referees in professional sports experience the same sort of criticism, but they don't have websites for people to leave their dissatisfaction. Terlouw does, and he says he sometimes gets a virtual earful about how his derbies are called. Despite some rude and biased comments, Terlouw doesn't close himself from criticism "I know I'll listen to people," says Terlouw. He usually looks into most serious accusations. "If a person needs to change, than I'll do it."
Too many, according to Terlouw, use the anonymity of internet to launch baseless attacks on promoters. "If people are on [the internet] criticizing something they don't know about, that's what gets to me," says Terlouw. "That's what kind of frustrates person."
Despite the fact that the medium allows Terlouw to be harried by faceless detractors, the founder of Lunatic Promotions still praises the internet. "I don't think [the internet] makes it more difficult," says Turlouw. In fact, he says it makes things easier a lot of the time. "I think it helps in the sport great," Terlouw says he needs all the help he can get these days.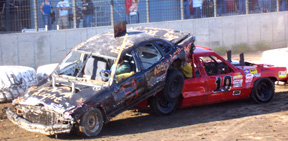 "There's less drivers now than there was even ten years ago," says Terlouw. "So many county fairs and so many promoters are fighting for fewer drivers," Terlouw says there are less drivers per venue these days "Years ago… it was common to go to the derby and you'd have a hundred cars no matter what," says Terlouw. "Now if you have 100 cars, it's a heck of a big derby."
The internet allows him to reach fans, drivers, and anyone else he needs to contact. "The internet helps. It gets the word out, especially for out of state guys who want to run someplace else… They look on the internet and see where the big events are," Terlouw says he finds the internet to be a useful if a bit bothersome tool. "I take criticism pretty good. "