NEWS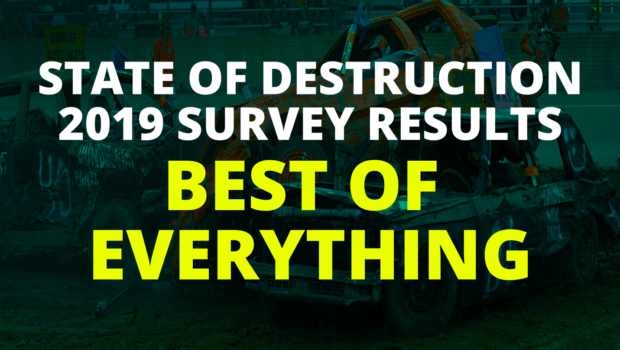 Published on December 30th, 2019 | by DDL HQ
DEMOLITION DERBY LEAGUE Announces Top Demolition Derbies of 2019
Blizzard Bash of Topeka, Kansas becomes 4-time winner of "BEST DEMOLITION DERBY IN THE WORLD"!

NASHVILLE, TN USA – Commissioner Dudley Disastro and the DEMOLITION DERBY LEAGUE are pleased to announce that Blizzard Bash in Topeka, Kansas USA has been voted the 2019 winner of the "BEST DEMOLITION DERBY IN THE WORLD". The annual award is presented to the combative motorsport event that most captures the thrill, excitement and sportsmanship associated with the world of demolition derby.
In total, 376 events in 13 countries were nominated for 2019 BEST DEMOLITION DERBY IN THE WORLD and 9,364 people were involved in a selection process that occurred during the month of December 2019. Based on the results, the top demolition derby events in the world for 2019 are as follows:
TOP 10 DEMOLITION DERBY EVENTS IN THE WORLD FOR 2019
  1.  Blizzard Bash – Topeka, Kansas USA
  2.  Bash For Cash – Washington Court House, Ohio USA
  3.  Sanfilppo Smash – Morris, New York USA
  4.  Juab County Fair – Nephi, Utah USA
  5.  Ogden Halloween Havoc – Odgen, Utah USA
  6.  Delaware County Fair – Walton, New York USA
  7.  Pine County Fair – Pine City, Minnesota USA
  8.  Urban Destruction – Evansville, Indiana USA
  9.  Winter Slam – Garden City, Minnesota USA
10.  Kings of Old School – Whitney Point, NY USA
This is the fourth time Blizzard Bash has won the award, having also received the top honors in 2014, 2016 & 2017.  Brothers Tim & Russ Clark and their Smash It Demolition Derby promotion team hosts Blizzard Bash during the month of November at the Landon Arena at the Stormont Vail Events Center in Topeka, Kansas. It is the world's largest indoor demolition derby, with over 250 drivers competing in 12 different events.
"What an exciting year of last-man-standing adrenaline!" says Dudley Disastro, Commissioner of the DEMOLITION DERBY LEAGUE.  "The people have spoken and Blizzard Bash is clearly the dominant demolition derby in the world. We're glad to see this tradition being carried on by the Clark brothers and are proud to recognize this event and their hard work as the best of the best.  Here's to more great years in the future of demolition derby!"
Other award winners from the annual State of Destruction survey are:
BEST WEBSITE, discussion board or social media site about demolition derbies:
1.  Facebook.com/NorthEastDemolitionDerby
2.  WeCrash.com
3.  Facebook.com/WeCrash
4.  Crash Course Podcast
5.  Facebook.com/UtahDemolitionDerby
MOST FAMOUS NAME in demolition derby:
1.  Josh Decker
2.  Jason Brodzinski
3.  Steve Cioppa
4.  Paul Cox
5.  Pete Hansen
6.  Johnny Gullo
7.  Reg Bonneau
8.  Russ Clark
9.  Don Santel
10.  Robbie Layton
CELEBRITY you'd most like to see in a demolition derby:
1.  Donald Trump
2.  Vin Diesel
3.  Dwayne Johnson
4.  Jesse James
5.  Flava Flav
The DEMOLITION DERBY LEAGUE would like to thank you to all the fans that participated in the voting.  Your support helps us continue to grow the opportunities for our sport. Thank you!
~~~~~~~~~~
ABOUT the DEMOLITION DERBY LEAGUE
The DEMOLITION DERBY LEAGUE (DDL) is a volunteer-based organization that serves to promote all types of combative, motorized sports.  The membership is composed of drivers, car builders, team owners, crew members, event promoters, track owners, sponsors, media interests, fans and enthusiasts. Through demolition derbies, figure-8 racing, off-road derbies, banger races, enduro competitions and other hard-hitting events, the League provides opportunities for participants of all interest levels to engage in the world of aggressive driving.  The League was founded in 2010 by Commissioner Dudley Disastro in Nashville, TN and an international team of dedicated volunteers.  
Did we get it right?!?  Add your comments below!