NEWS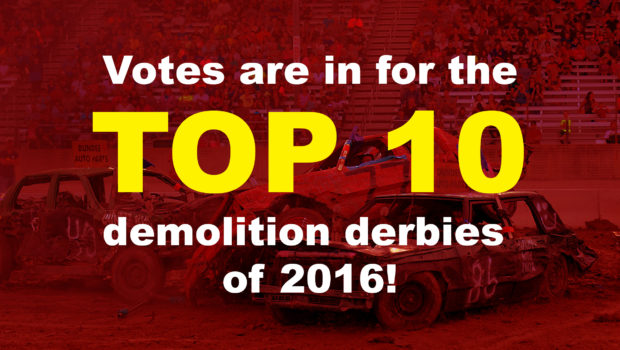 Published on December 20th, 2016 | by DDL HQ
0
DDL Announces Top Demolition Derbies of 2016
Thousands of demolition derby fans have voted and the "BEST DEMOLITION DERBY IN THE WORLD" is Blizzard Bash of Topeka, Kansas again! 
NASHVILLE, TN USA – The DEMOLTION DERBY LEAGUE announced today that Blizzard Bash in Topeka, Kansas USA has been voted the 2016 winner of the "BEST DEMOLITION DERBY IN THE WORLD".  The annual award is presented to the combative motorsport event that most captures the thrill, excitement and sportsmanship associated with the world of demolition derby.
In total, 451 events in 16 countries were nominated for 2016 BEST DEMOLITION DERBY IN THE WORLD and 13,216 people were involved in a selection process that occurred during the month of December 2016.  Based on the results, the top demolition derby events in the world for 2016 are as follows:
TOP 10 DEMOLTION DERBY EVENTS IN THE WORLD FOR 2016
  1.  Blizzard Bash – Topeka, Kansas USA
  2.  Fall Brawl – Lindsay, Ontario CANADA
  3.  Bash For Cash – Washington Court House, Ohio USA
  4.  Juab County Fair – Nephi, Utah USA
  5.  Winter Slam – Garden City, Minnesota USA
  6.  Spring Explosion – Urbana, Illinois USA
  7.  Weekend of Wreckage – Newcastle, Ontario CANADA
  8.  Crossroads of Destruction – Albert Lea, Minnesota USA
  9.  Kings of Destruction – Tooele, Utah USA
  10.  Kings of Old School – Whitney Point, New York USA
This is the second time Blizzard Bash has won the award, having also received the top honors in 2014.  Promoter Sam Williams and his team hosts the event during the month of November at the Landon Arena at the Kansas Expocentre in Topeka, Kansas. It is the world's largest indoor demolition derby, with over 250 drivers competing in 12 different events.
"The world of demolition derby was quite combative this year!" says Dudley Disastro, Commissioner of the DEMOLITION DERBY LEAGUE.  "There's was some stiff competition for the best derby trophy between Blizzard Bash, Fall Brawl, Bash of Cash and, the new comer, the Juab County Fair.  It's a good time to be involved in combative motorsports!"
The DEMOLITION DERBY LEAGUE would like to thank you to all the fans that participated in the voting.  Your support helps us continue to grow the opportunities for our sport.  Thank you!
Did we get it right?!?  Add your comments below!