NEWS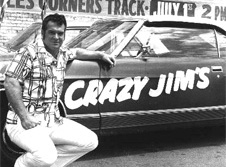 Published on November 18th, 2013 | by DDL HQ
0
Crazy Jim Changed His Name and Lived Pedal to the Metal
March 17, 2002 by NICOLE SWEENEY
Reprinted by permission of the Milwaukee Journal Sentinel
OBITUARY
He was known as a flamboyant used car dealer, demolition derby pioneer, gubernatorial candidate and a Las Vegas high roller who once played cards with Frank Sinatra.
But he made his name by legally changing it – from James Groh to Crazy Jim.
It was July 11, 1974.
"Your first name is going to be Crazy and your last name is going to be Jim?" asked Circuit Judge Leander J. Foley.
"Correct," answered Crazy Jim.
"He started out with slogans that said 'Crazy Jim is a friend of the working man,' " said Jim's daughter Debbie Liebert. "That's what stuck and he was proud of it."
Jim died Saturday March 16, 2002 in his West Milwaukee home of a heart attack. He was 68.
Jim was a West Milwaukee native who won state boxing championships while at West Milwaukee High School. His love for the sport never waned, and he was responsible for bringing Muhammad Ali to Milwaukee for a visit in 1982, said Jim's stepdaughter, Denise Kilpatrick.
He started his first car dealership when he was in his 20s, as a Studebaker dealer.
"He was pretty independent," Liebert said. "He really started as a tool-and-die maker, and he did not like 9-to-5, so he went out on his own."
Crazy Jim Motors Inc. was a mainstay at 930 S. 16th St., and soon his one dealership grew to three, plus a dealership in Las Vegas.
He built his last Milwaukee dealership on S. 27th St., "knowing that 27th was going to grow and that they were going to build on it. So his sight for business was great," Kilpatrick said.
He was also a pioneer in demolition derbies before derbies got big, Liebert said. Cars too junky to sell often found a home in the Crazy Jim Demolition Derby at the Hales Corners Speedway.
Liebert says his marketing techniques were "ahead of his time."
"He had such creative ideas for marketing, and I'm just amazed that I'm still seeing some of those ideas today," she said.
Jim did what he could to sell his cars. Wholesalers dubbed him "Crazy Jim" after he sold a lot full of cars at below cost.
"What they didn't know was that I had a wife and four kids at home and no money to put food on the table," Jim told The Milwaukee Journal in 1978.
He used the moniker to his advantage. His favorite saying was "I may be Crazy but I'm not stupid," according to Kilpatrick.
But his family was not so keen on the legal name change.
"I know my grandmother was not happy," Liebert said with a laugh. "We opposed it, but my dad is a self-made man, that is for sure, and he forged ahead."
Despite his love of the limelight, Jim was "your average American dad," Kilpatrick said. But Kilpatrick admitted she was a little embarrassed when Jim picked her up from school, beeping the horn of his red 1976 Cadillac convertible that had "Crazy Jim" flags flying out the back and demolition derby promotional magnets plastered on the outside.
Gambling advocate
In 1974, Jim ran for governor as an independent. He was very serious about his platform, which was centered on legalizing gambling, Liebert said. Although Jim lost to incumbent Patrick J. Lucey, he was proud that he carried Waushara County.
An avid gambler himself, he frequently traveled to Las Vegas. Friends introduced him to Sinatra there, and Jim would later tell his grandkids about their all-night gambling and drinking sessions, Liebert said.
After drinking, Jim was known to tear up or burn $1,000 bills – just for fun.
In 1984, while recovering in Las Vegas from a heart attack, he was shot when he surprised an intruder in his home. He lost a kidney because of the injury. "His heart problems escalated from that time forward," Liebert said.
In 1995, he served five months in prison after pleading guilty to impeding federal tax investigations into businesses he owned in the Milwaukee area.
In retirement his lifestyle changed, Liebert said. He enjoyed simple pleasures, such as telling stories about his life to his nine grandkids and three great-grandchildren.
"He often told us everything in life he wanted to do he did, and he enjoyed himself," Liebert said.
"Milwaukee will never have another Crazy Jim."