Become a Derby AMBASSADOR!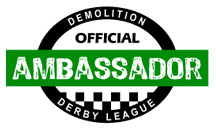 Demolition Derby Needs You!
The DEMOLITION DERBY LEAGUE Ambassador Program provides opportunities to connect with members, promoters, sponsors, media interests and other persons interested in combative motorsports. Ambassadors work with the League staff to promote the sport of demolition derby at state and national levels.
DDL Ambassador Responsibilities:
The Ambassador will serve as the eyes and ears of the League within their given territory and may be asked to execute programs and initiate relationships on behalf of the League itself.  This position will act as a leader in their region and will work with the League to promote the sport and support the event promoters, drivers and fans in that area.  These responsibilities may include:
1. Creating a database of derby events and contacting promoters for more information
2. Adding events to the League website as well as encouraging promoters to register
3. Hosting League promotional events in your region
4. Taking pictures, obtaining results and making notes about the derbies you attend
5. Being available for media interviews and assisting with broadcast, print and online press
6. Helping League build a database of promoters, drivers and fans within your region
7. Organizing social events for fellow League members in your area
8. Creating and regularly updating your League profile
9. Brainstorming with League staff on ways to promote the sport in your area to "new" fans
10. Meeting with companies or other people on behalf of the DDL
DDL Ambassador Requirements:
1. Must be willing to commit time and efforts to carry out actions on behalf of the League
2. Must at all times act in a manner conducive to League morals, standards and objectives.
3. Must be available for phone conferences to discuss ideas and programs when needed.
4. Must be 18 years of age or older.
5. Must be enthusiastic about the sport and willing to have a lot of fun.
To Become a DDL Ambassador:
If you know someone who might be a good representative for the League (and it might be you!), please use the form below to contact us.  We'll use the information you submit to determine if you might be a good Ambassador.  Thanks again for your interest!
  .  

DDL AMBASSADOR CONTACT FORM
  .