About the LEAGUE
"DEMOLITION DERBY: A competitive, combative motorsport in which drivers deliberately and repeatedly crash motorized vehicles into each other, on a racetrack or in an enclosed area, with the winner being the last vehicle still moving after all others have been disabled.  Oftentimes, these events are held at county fairs and festivals.  Some variations include figure 8, enduro, banger, roll-over, Siamese, train, and other racing styles."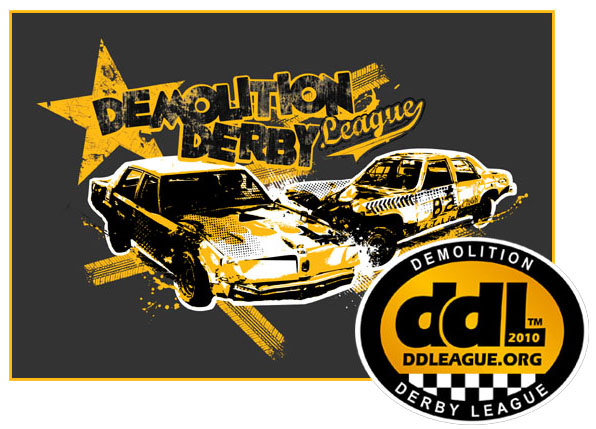 FOR THE FANS & FRIENDS OF COMBATIVE MOTORSPORTS!
The DEMOLITION DERBY LEAGUE (DDL) is a volunteer-based organization that serves to promote all types of combative, motorized sports. The membership is composed of drivers, car builders, team owners, crew members, event promoters, track owners, sponsors, media interests, fans and enthusiasts. Through demolition derbies, figure-8 racing, off-road derbies, banger races, enduro competitions and other hard-hitting events, the League provides opportunities for participants of all interest levels to engage in the world of aggressive driving.
Demolition derbies and related events are very popular in North America with over 2,000 events held annually and over 5 million people in attendance. The DDL partners with these events and helps organizers, participants and attendees enjoy an exceptional experience.

The goals of the DDL include:
(1)  Provide informational resources for members and guests about the world of combative motorsports
(2)  Introduce new and prospective enthusiasts to the organization and encourage their participation in events
(3)  Foster interaction among members
(4)  Promote activities which further the goals of the organization, including online services, live events and televised productions.
(5)  Facilitate main-stream media access to member activities and partner events
The DDL operates DDLeague.org, the online portal where up-to-date and current information is shared about events and activities.  The DDL is headquartered in Nashville, TN is governed by a volunteer Board of Directors.
If you have additional questions about the DDL, please utilize our contact form.